Veterans Have the Skills for Starting a Franchise Business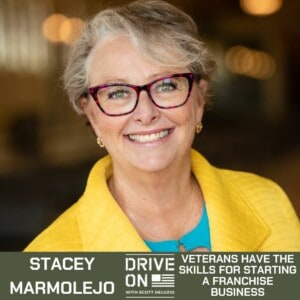 Stacey Marmolejo is the founder and CEO of Franchise Prep Academy, which helps soon-to-retire military personnel navigate the franchise industry so that they can evaluate if a franchise career is right for them in their next step after the military.
Stacey comes from a family of 10 military generations serving 176 years collectively. Although her parents were Disheartened when she did not join the military, she knew she'd either be in the brig or kicked out quickly if she did. So, she climbed the corporate ladder and eventually became a senior vice president of a national company. It was then that she decided to quit and buy a startup franchise. She had three locations over 16 years and sold them for seven figures. She then decided to retire.
Stacey Marmolejo was retired for two days before becoming bored and starting to help people look at franchises. She believes franchises are a great business model, especially for people with work experience but not necessarily business ownership experience.
In the conversation, Scott and Stacey discuss the pros and cons of starting a business from scratch versus buying a franchise.
Links & Resources
Transcript