Healing Veterans One Dog at a Time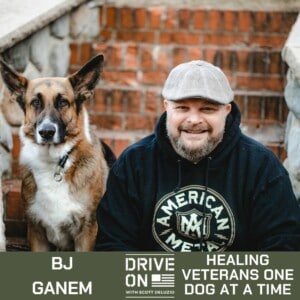 BJ Ganem takes us back to his time in Iraq when his vehicle was struck by an I.E.D. This life-altering moment left him with an amputated leg, a mild brain injury, and shrapnel wounds. It was also a pivotal moment that reshaped his perspective on life and led him on a path of service and advocacy.
Transitioning from the military to civilian life can be challenging, and BJ shares his personal experiences with this process. He discusses how he found his purpose in helping other veterans navigate this journey, particularly through his roles as an accredited Veteran Service Officer and his involvement in establishing the Veteran to Veteran Program with the Semper Fi & America's Fund.
BJ's commitment to supporting veterans led him to pursue a Master's in Social Work, with a focus on military life, further enhancing his ability to make a difference in the lives of veterans.
BJ is now the founder and CEO of Sierra Delta. Under BJ's leadership, Sierra Delta combines the love of dogs with service to veterans. The organization's core programs, the Life Buddy Program and the Life Force Program play a crucial role in supporting veterans. The Life Buddy Program assists veterans in obtaining and training dogs tailored to their specific needs. The Life Force Program unites veterans and supporters through various activities and initiatives that make a meaningful impact.
Support the Show
Links & Resources
Transcript